One in four people in Britain are not confident that the NHS can provide them with the care they need. How can we fix this? Dr. Gege Gatt, EBO's CEO, answers this question in his talk at the NHS Innovation Conference 2023. Dr. Gatt moves on to unpack the idea of Artificial Intelligence in healthcare and explains how it can help to make healthcare provision more effective and accessible to all. Find out more below.
Understanding the Challenge
According to a recent patient survey, "one in four citizens don't believe that the NHS can care for them properly." The two key reasons are communication barriers and restricted access to healthcare services, particularly among demographics struggling with digital literacy.
Identifying the Core Issues
The focus of EBO, as outlined by Dr. Gege Gatt, revolves around addressing these two primary problems; access and demand. "Around one-third of all adults are not sufficiently digitally literate to access or utilise any of the Digital Services which are available from the NHS. We need to solve that." Gatt states . Digital literacy should not be a barrier hindering patients from utilizing essential services.

So, how can we tackle these key issues?

Gatt explains that using Conversational AI and automation can facilitate patient interactions with healthcare providers. Automation alleviates the strain on the NHS workforce, allowing more attention to be directed toward patient care.

"We want to help patients to access the NHS and navigate their pathways easily, but we also want to help the workforce within the NHS to take on a large volume of administrative work," Gatt elaborated.
Patient-Centric Transformation
Highlighting the goal of transforming healthcare from an often depersonalised and bureaucratic system to a patient-friendly, conversational, and inclusive model, Gatt argues that AI offers a more accessible and natural way for patients to interact with the NHS. By automating repetitive administrative tasks and streamlining processes, AI can make patient journeys more convenient, efficient, and patient-centric.

The NHS's current reactive processes need to evolve, leveraging data for a more predictive approach. The complex, inaccessible systems, on the other hand, need a transformation, with the objective of making them universally adaptable and user-friendly, catering to individual patient needs.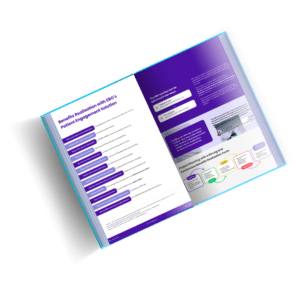 Your Guide to AI in Healthcare
Find out how you can:
-Redefine patient engagement
-Build meaningful relationships with patients at scale
-Increase patient access, agency and choice
-Introduce personalised automated conversation with each patient
-Improve workforce quality
Restoring Patient Agency

Engaging patients through conversations is the key. By enhancing patient engagement, the healthcare system could significantly improve clinical outcomes. The focus isn't merely on technology but on fostering meaningful conversations and understanding patient needs. Gatt introduces the concept of operational AI, which differs from clinical AI - a form of AI that focuses on improving patient engagement through RPA and automation.
Tackling the Clinician Shortage
The NHS faces a considerable challenge with an expected shortage of clinicians and a projected deficit of 10 million clinicians in Europe by the decade's end. The solution, according to Gatt, lies in AI. It's about automating processes to free up clinicians from repetitive tasks, allowing them to focus on what truly matters - patient care.
"The key here is not to replace human clinicians but to provide them with more time to care for patients."

- Gege Gatt
Trust and Choice in AI Adoption:
Building trust and offering choice is vital in the adoption of AI. Patients should feel comfortable using AI, without feeling obligated to do so. "Adoption flourishes when patients are easily provided with the choice and not the obligation of using artificial intelligence," articulated Gatt.
Results and Patient Feedback
Patient adoption of EBO's AI has doubled in just one year, with 99.2 percent of patients finding AI-driven assistance effective. The technology's accessibility, convenience, and effectiveness in addressing healthcare needs have truly resonated with patients. Gatt presents empirical data showcasing how AI-driven interactions have notably enhanced patient satisfaction, automated administrative tasks, and alleviated the workload for healthcare providers. For example, EBO managed around 1,000 automated conversations in Somerset monthly, with 40 percent occurring outside regular office hours. Furthermore, the flu vaccination campaigns conducted for NHS Shropshire saw an outstanding adoption rate of 100 percent, coupled with a remarkable 95 percent positive patient feedback.
As we look forward to 2030 and the transformation of the NHS into a more patient-centered healthcare system, it's crucial to recognize AI's pivotal role. With a commitment to fostering trust, EBO's vision is to provide choices for patients, enabling them to interact with the NHS in a way that suits their preferences.
The future of work involves humans and AI working together as a team.
As we look towards 2030, operational AI and automation stand as crucial pillars in achieving this vision. Through conversational AI, EBO aims to address issues like digital literacy, clinician shortages, and patient engagement, making healthcare more accessible, efficient, and patient-friendly. To find out how AI automation can help your NHS Trust and bring you closer to your patients, contact us today.
Watch Dr.Gatt's full talk in the video below: